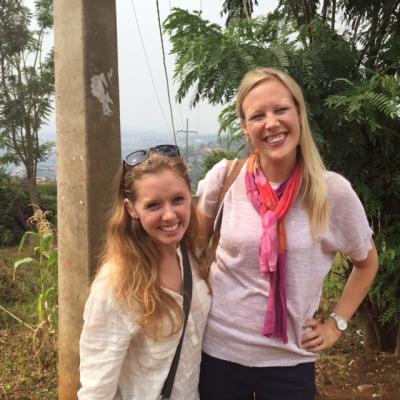 In a relatively short time at Ohio State, Hollie Nyseth Brehm, assistant professor in sociology and criminology, has become a highly respected and beloved instructor, mentor and researcher. In April, Brehm was recognized for her superior teaching with the 2016 Alumni Award for Distinguished Teaching. Brehm was nominated by current and former students and colleagues.
Brehm teaches classes on conflict, global crime and terrorism.  She has received a 4.9 out of 5 rating for each of the courses she has taught and regularly earns glowing feedback from her students.
As one student nominator wrote, "she genuinely cares about students and has an obvious passion for teaching. I would take any course she offered."
One nominator commends Nyseth Brehm on her teaching style, which "draws on a diverse array of teaching methods, including group work, video clips, images and graphs, short stories about current events, active learning exercises, podcasts and case studies."
Brehm's impact is felt far beyond the Ohio State classroom as well because of her scholarly work on the causes of genocide, the community-level factors that influence how mass violence unfolds and transitional justice.
During the 20th century, genocide was responsible for more deaths than murder, homicide, and manslaughter combined.
"While many people believe that genocide is unpredictable, I study how it is actually patterned," Brehm explained. "I am creating models to better understand the factors that influence why, when and how genocide occurs."
Brehm has lived and worked in Rwanda and Bosnia, where she interviewed both perpetrators and victims of genocide. Her work suggests that genocide can be predicted and maybe even prevented.
"I hope to help build the sociology of genocide into an established research paradigm," she says.
Brehm is a member of a government atrocity prevention task force and regularly consults with the Rwandan National Commission for the Fight Against Genocide. She also volunteers with the Center for Victims of Torture and is a core member of I-Activism, which provides humanitarian action to people affected by mass atrocity in Darfur.
As she says, "My research agenda is motivated by the fundamental questions of why and how atrocity crimes occur and who commits them. I am equally interested in the process of transitional justice after atrocities, including how societies rebuild, how international actors respond to the violence, and the lasting effects of mass violence on collective memory and on societal institutions. In other words, I am interested in multiple processes of international crime, mass violence, and human rights violations—why they occur, how they occur, their effects, and responses to them.
I pursue this research through interviews with people who have been affected by genocide and with those who have committed it. My current projects examine why genocide happens, triggers of mass violence, and how genocides unfold at local levels. I am also working with the government of Rwanda to examine the gacaca courts, which were the local courts that were instituted following the 1994 genocide to try people who participated in it. Building on this, my new study follows convicted perpetrators of genocide in Rwanda as they leave prison and return to their communities."
Recently Hollie gave a Tedx talk on the this subject.
Brehm holds a PhD and MA in sociology from the University of Minnesota Twin Cities, and a BS in sociology and political science from the University of Wisconsin-La Crosse. She has been an assistant professor of sociology at Ohio State since 2014.
---