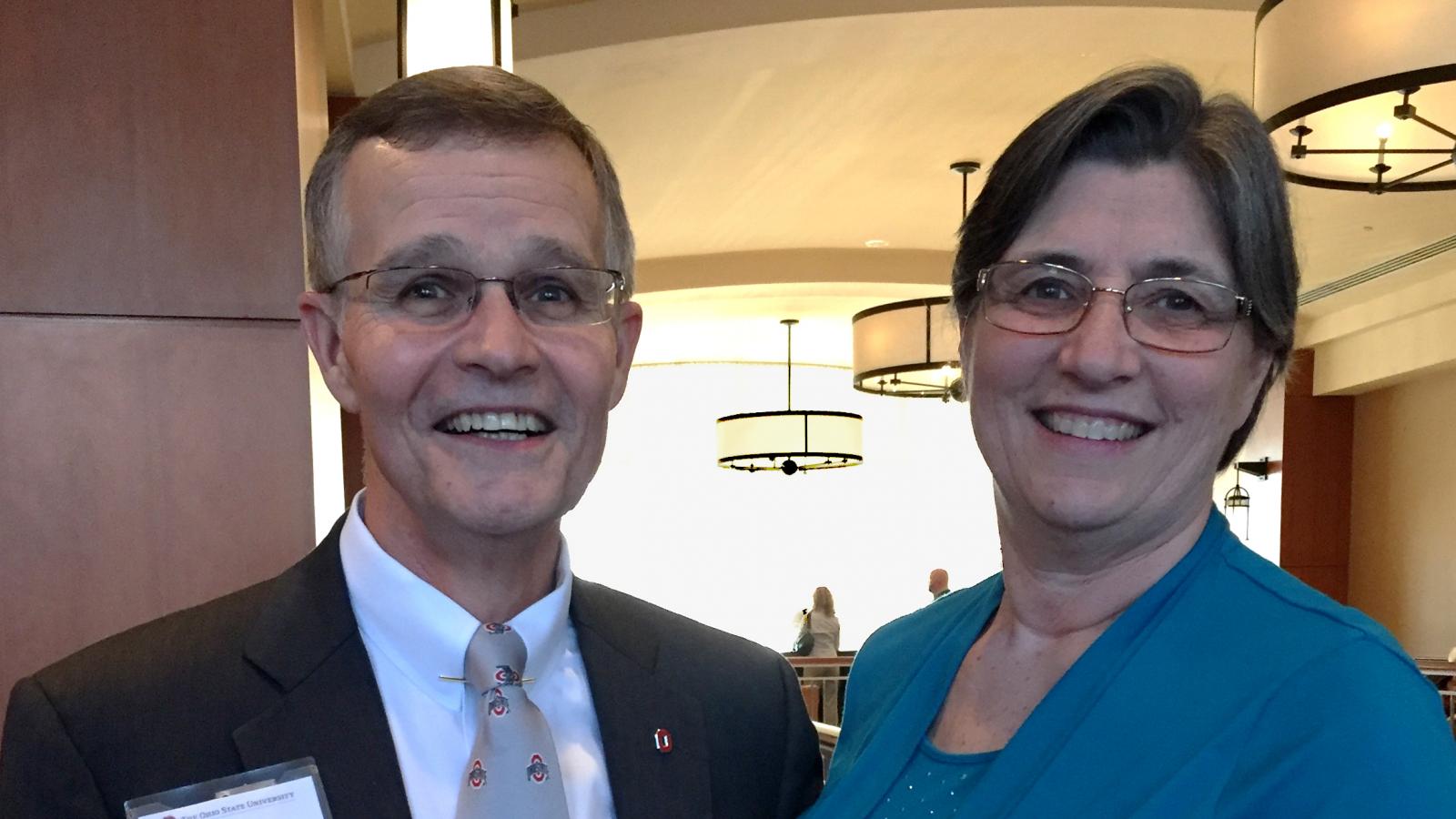 Body
H. Dean Gibson (sociology, 1974) is a retired partner of Aon Hewitt, one of the world's largest human resources, actuarial and risk management consulting firms. During his career, he held office management, sales and sales management and client relationship management positions. For more than 30 years, he served as client relationship manager to many mid-large Fortune 500 and 1000 companies and organizations. HIs experience included publicly traded and privately-owned corporations, public-sector and tax-exempt organizations.
In 2016, Gibson was finishing up his second and final term on Ohio State's National Alumni Advisory Council as liaison to the College of Arts and Sciences when sociology chair Claudia Buchmann asked him to help create and chair the the advisory board.
"I was fortunate when Dean Gibson agreed to join me as a partner in this initiative, as his passion for his alma mater and his energy for alumni-related initiatives are boundless," said Buchmann.
Gibson shares his thoughts on taking on the role and the mission of the board in supporting the department's advancement.
Why did you choose to accept the leadership role for the Sociology Alumni Advisory Board?
I felt truly blessed to have another opportunity to give back to the university and department to help its students, faculty, staff, alumni and friends, the community, and the discipline itself. My Ohio State student experience and degree in sociology have given me so much to be thankful for in positive opportunities to have a career I truly enjoyed, a wonderful family and to serve others through community service throughout my life.  "But for Ohio State and my sociology degree" I may not have had these opportunities. I'm extremely passionate about how important the degree and discipline of sociology is -- it's foundational, versatile, teaches you to think critically, creatively and strategically, and offers unlimited career possibilities. The department and discipline through its research are finding state-of-the-art solutions to some of our most critical societal issues of today.
What is the board's role?
First, we are a philanthropic board, so our main responsibility is to provide financial support for student and faculty scholarship and research as well as other department initiatives. An additional significant role is listening, providing advice and strong encouragement to the department chair, faculty and staff in their critically important roles as teachers, researchers and mentors. We need to keep inspiring an already highly motivated faculty and staff to keep making a difference, every day, in finding best practice solutions to the world's most critical and complex societal issues. We mentor and encourage students, through our own personal testimonies. Let them know their sociology, criminology and criminal justice studies education will provide them a strong academic foundation and tools from which to achieve a highly successful career, personal life and in some way, make the world a better place. We  also fully support the department's focus on diversity and inclusion, and the efforts to increase the number of first generation students, both at the undergraduate and graduate levels.
The backgrounds of the board members are varied - business, law, government, academics, non-profit - is that by design?
It's important to have a variety of perspectives and careers represented on the board to better support the department and inspire students, faculty and alumni that there are many highly successful careers and career paths that await sociology majors! The diversity of our board reflects the array of excellent sociology alumni who have excelled in a wide variety of careers, as well as, the vast career opportunities and possibilities sociology majors have after graduation
What are the board's plans to engage alumni?
The board is considering a number of ideas to engage and stay connected with sociology, criminology and criminal justice studies alumni. One of them is to sponsor an annual salon-style, educational seminar on trending, hot "sociology, criminology and criminal justice" topics. Our inaugural Sociology Salon was held last spring and featured Assistant Professor Hollie Nyseth Brehm and her research on understanding genocide. We are currently planning our spring 2019 event so stay tuned! There's also discussion about hosting a series of book talks, led by a faculty member, and have faculty rotate on choosing the book, one time per semester. We are considering live-streaming talks for alumni who live long distances from main campus. Additional ideas include inviting sociology alumni to participate in career panels for students and perhaps, even other alumni and organizing periodic mentoring events.