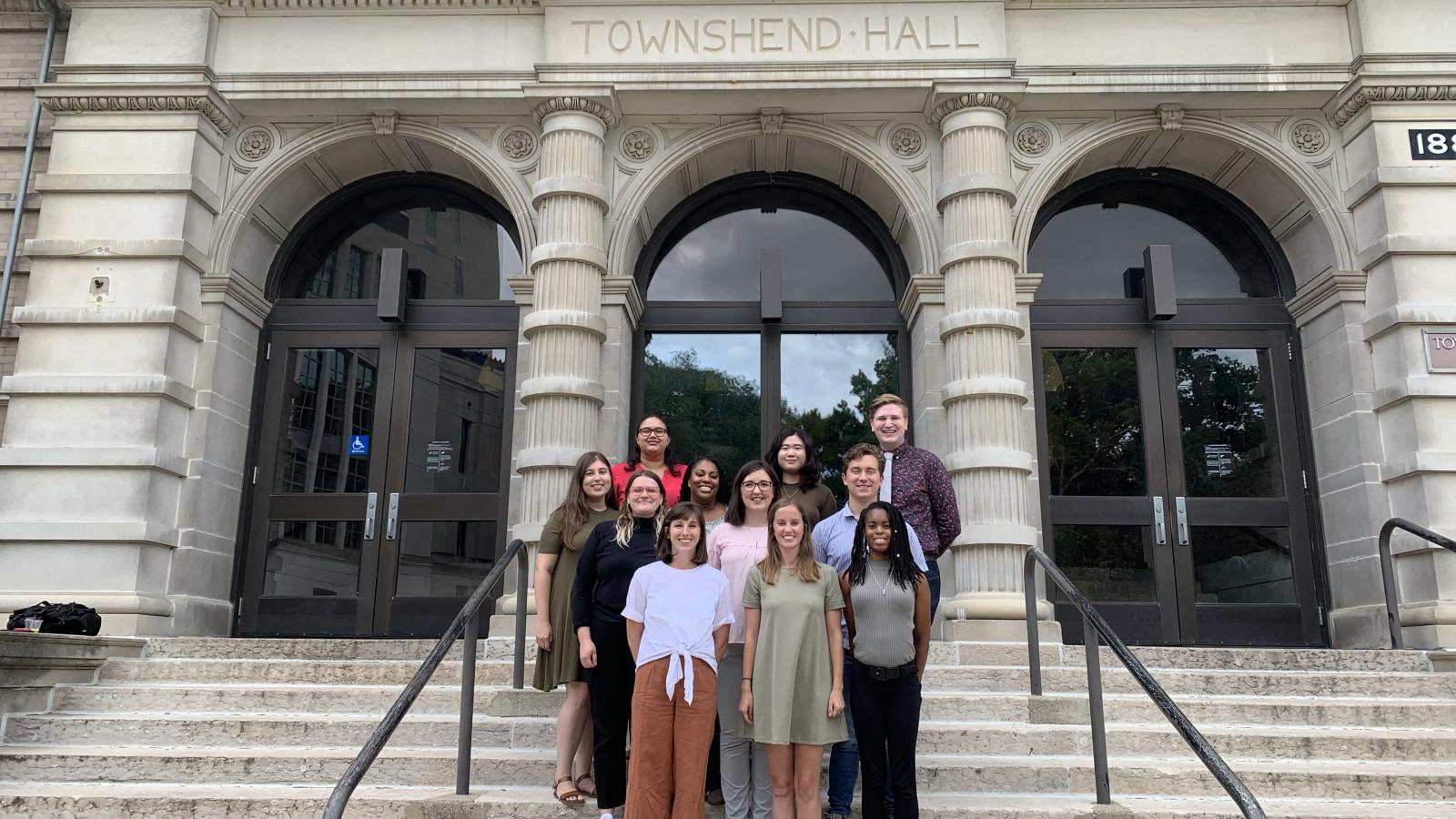 Body
For current graduate students, please see the links on the right for important student resources regarding computing services, outside funding sources, research and travel support, campus libraries, professional organizations and affiliated centers on campus.  You can also find the most recent versions of the department and graduate school handbooks
---
Current Graduate Student Spotlight: Sadé Lindsay
Sadé Lindsay has persevered through trials few her age have ever known. While lining up for the procession into Ohio Stadium for graduation in 2015, Lindsay got a phone call. Her brother had been killed in a car accident. Within a month of starting her journey as a graduate student, her father lost his battle with cancer.
Despite these tragic losses, Lindsay continues to prevail. Since her career as a graduate student began, she has been selected by the American Society of Criminology for a Ruth D. Peterson Fellowship for Racial and Ethnic Diversity and by Ohio State's College of Arts and Sciences for its Graduate Student Award for Distinguished Service. Lindsay's research on racial inequities in media coverage of the opioid and crack epidemics garnered her honorable mentions from the National Science Foundation and the Ford Foundation. As judged by her faculty mentors and peers alike, Lindsay has tremendous potential to become a leading scholar in the field of criminology.
A Columbus native, Lindsay attended Eastmoor Academy where she excelled in academics and athletics; she was selected for The Columbus Dispatch All Girls Basketball Team when she was just a junior. Her discipline and determination earned her an academic scholarship to Ohio State, which worked out just fine for the avid Buckeye fan.
"I have an extreme love for all things Buckeyes," Lindsay said. "My mom went to Ohio State and growing up in Columbus, you're all about Buckeye pride."

As an undergraduate, Lindsay discovered her passion for the field of criminology when she took a criminal justice course taught by senior lecturer Deborah Wilson.
"I loved the course," said Lindsay. "I loved learning about legal cases and my instructor was so inspiring that I started taking as many sociology classes as I could." She eventually switched her major to criminology and began formulating ideas for a series of research projects, one of which would become her master's thesis.

When Lindsay graduated with her BA in criminology, the opioid epidemic was just beginning to emerge onto the public scene. Lindsay had been following the news as the crisis unfolded and began to question whether race played a role in how the media and public responded to the opioid crisis as opposed to how they responded to the crack cocaine epidemic of the late 1980s.
"Looking at just the media, I found significant differences in how the epidemics were reported," said Lindsay. "Cocaine was treated as a public safety issue demanding aggressive police responses whereas opioid use has been framed as a public health issue, requiring a therapeutic approach."
Lindsay's research revealed the extent to which press coverage would humanize opioid users but demonize or otherwise dismiss crack cocaine users as criminals.
"The state's response to the heroin epidemic has been far less punitive than the crack epidemic; whereas during the crack crisis, the state and federal government focused much more on policing and incarcerating."
According to Ryan King, professor of sociology who served on Lindsay's master's thesis committee, Lindsay has an extraordinary work ethic and ability to envision new and compelling research questions that connect multiple areas of the discipline. "Sadé performed brilliantly in my graduate seminar. It is precisely this quality – grit and willingness to put in the necessary hours on a project – that separates students who succeed from those who falter during graduate school."
Lindsay's adeptness at developing independent research ideas is further demonstrated by her work fellow graduate students. In a project that has already won both external and internal graduate student paper awards and was recently published in the Journal of Research in Crime and Delinquency, Lindsay and two graduate students peers in her cohort analyzed how mass shootings are covered in the media by race of the perpetrator. The paper demonstrates how white shooters are medicalized, while black shooters are criminalized.
"Sadé is developing a coherent research trajectory on cultural representations of race and its implications for racial inequality and public policy," said Michael Vuolvo, associate professor and Lindsay's faculty advisory. "I believe wholeheartedly in the importance of her research to further both her own career as well as address long-standing issues in social inequality."
In addition to showing tremendous intellectual maturity and diligence, Lindsay is a tireless advocate for underrepresented groups on campus and in her community. For several years, she has been volunteering weekends as a mentor to the young men incarcerated at the Circleville Juvenile Correction Facility, in hopes of breaking the cycle of criminal recidivism.
"They remind me of my cousins and brother," she said. "I don't look at them any differently than many of the people I grew up with – they need guidance and support."
Sadé Lindsay is quite an extraordinary young woman by all accounts.