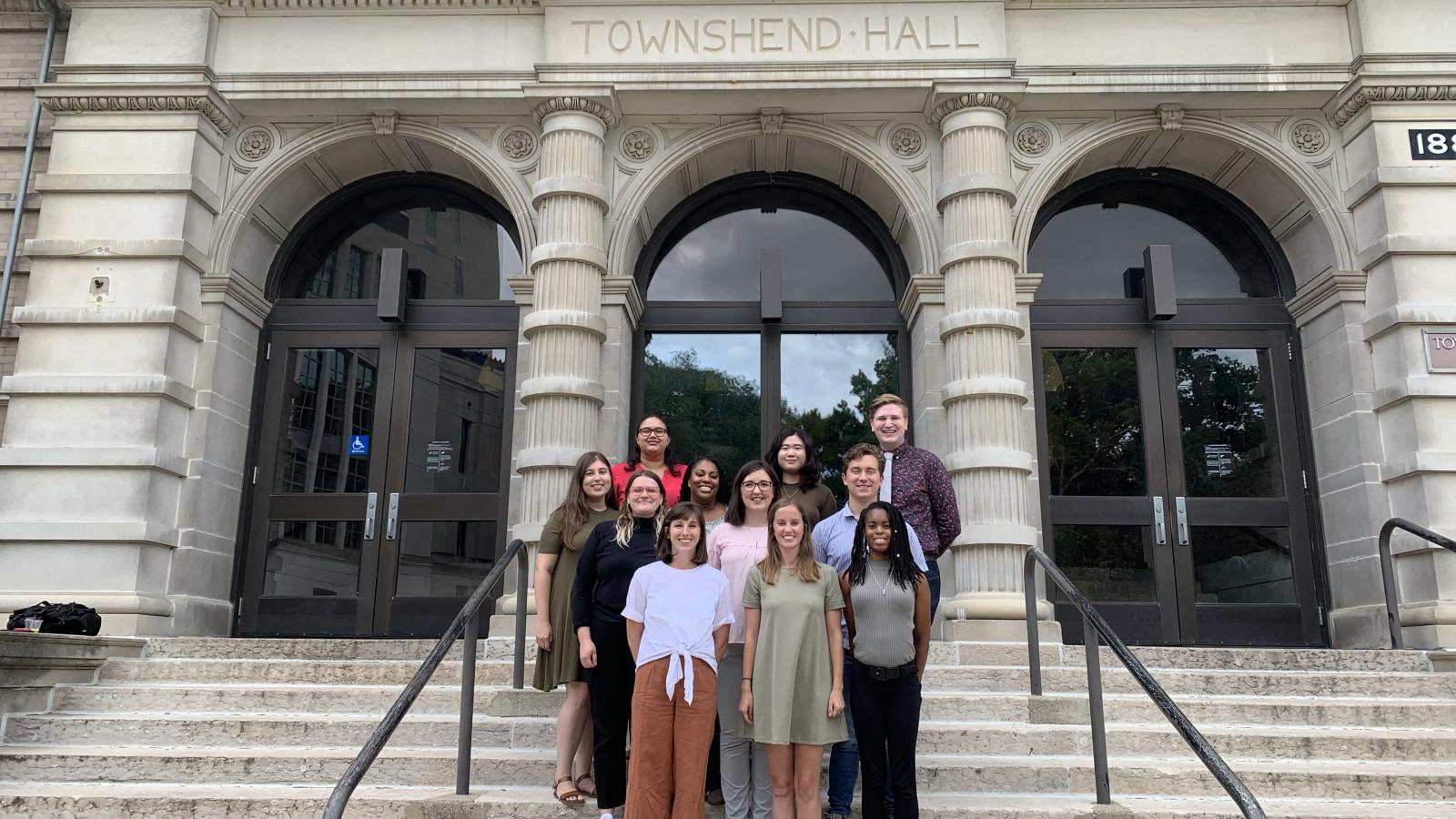 Body
For current graduate students, please see the links on the right for important student resources regarding computing services, outside funding sources, research and travel support, campus libraries, professional organizations and affiliated centers on campus.  You can also find the most recent versions of the department and graduate school handbooks
---
Current Graduate Student Spotlight: Paola Echave
WHERE DID YOU GROW UP?
I grew up in La Paz, Bolivia, which is located on the Altiplano Plateau in the Andes Mountains. While growing up, I spoke Spanish and was taught by my grandmother how to speak Quechua, which is one of the native dialects of the region. My most cherished memory is listening to the history and folklore of our culture told by my grandmother and other elders during family gatherings. While living in Bolivia, I witnessed the election of the first indigenous president, Evo Morales, in the history of the nation, but I also saw the violence that preceded it. La Guerra Del Gas (Gas War) started in 2003 and was one of the most traumatic experiences in the recent history of Bolivia. The political unrest and economic instability of the country forced my mother to flee to the United States. She left Bolivia when I was 10, but I stayed to finish my secondary education.
WHEN DID YOU EMIGRATE TO THE U.S.? WHAT WAS THAT EXPERIENCE LIKE?
After my last year of high school in Bolivia, my brother and I were finally able to reunite with our mother. We moved to Almogordo, New Mexico, where my brother continued his high school education and I started college. The first four months of living in the U.S. proved to be the most challenging, as I did not speak English and spent countless hours doing homework or reading articles assigned in my courses. My brother and I faced several challenges learning how to speak English as there were not any accessible resources for immigrants. I relied on family members and other immigrant friends to translate my homework or practice my speech. They also provided constant emotional support.
However, the biggest obstacle I faced as a new immigrant was not the inability to speak English; it was the xenophobia I experienced and witnessed in Alamogordo. I stated working at a movie theater, and one of my most painful memories is when I was accused of stealing by a customer and told to go back to my country. I also worked as an intern in the sheriff's office, where I witnessed the lack of resources for residents who did not speak English. This was very frustrating because the city had a large percentage of Hispanic people.
WHY DID YOU DECIDE TO PURSUE A PHD PROGRAM IN SOCIOLOGY?
My desire to get a PhD was instilled by María Vélez, an associate professor of sociology at the University of New Mexico, who introduced me to the fields of sociology and criminology. Originally, I was pursuing a medical career, but I took Vélez's class on the causes of crime and delinquency and realized I could use statistical methods and theory to answer questions about immigration, crime and other factors. This realization is what ignited my passion for sociology.I want to be a professor of sociology at a research university. I also want to continue studying immigration and guiding and motivating young minorities to complete a college education and gain the confidence to achieve their academic goals.
WHAT IS IT ABOUT SOCIOLOGY THAT MOTIVATES YOUR WORK?
I truly enjoy that I can use quantitative and qualitative methods to study the effects social factors have on individuals. I am particularly interested in studying immigration and health in the U.S. and Latin American countries.
HOW HAVE YOUR EXPERIENCES AS AN IMMIGRANT INFLUENCED YOUR CAREER PATH AND SOCIOLOGY RESEARCH?
When I arrived in the U.S., I met many other immigrants who shared stories and experiences similar to mine. However, I did not realize how important the immigrant status is and how it influences various aspects of our lives. It was not until I learned about the connection between immigration and crime that I finally understood how immigration can be studied from a sociological perspective. I thought being an immigrant simply implied being an outsider and that it did not have substantial impact on my future in the United States. I thought that, regardless of my label, I could still pursue the American dream. Nevertheless, I saw other immigrant friends who had experienced more difficulty achieving the same academic goals I had. This made me question whether the experience of being an immigrant varies and how much of an effect it has on people. As I learned more about immigration not only from my own experience and those of my peers but from research articles, it became obvious I enjoyed studying and reading about it. My passion for research about immigration only continued growing as I realized that there was more to be done in this field.
WHAT HAS YOUR EXPERIENCE BEEN LIKE AT OHIO STATE?
I truly enjoy Ohio State because the Department of Sociology has been very supportive and welcoming. Furthermore, I was pleasantly surprised to see many students from South America, especially Bolivia, here. When studying at the University of New Mexico, I met very few people from South America and not a single Bolivian. Now that I am in Columbus, I was able to reconnect with people from the same heritage and culture. My Bolivian friends and I often meet up for get-togethers, cooking and dancing. We enjoy each other's company and talking about places we like going in Bolivia and how research and getting a degree in the U.S. could help us contribute to our country.
WHAT DO YOU SEE AS THE CHALLENGES LATINA IMMIGRANTS FACE IN SUCCEEDING IN THE U.S. ACADEMIA?
Based on my own experience and those of my friends, faculty members who reached out to us made a significant difference in the decision we made to obtain a higher-level education. I also think Latina immigrants lack the adequate resources to address their mental health problems; balance work, education and life; and prepare for the standardized tests required to enter graduate school programs.