April 27, 2021
Weekly News
Image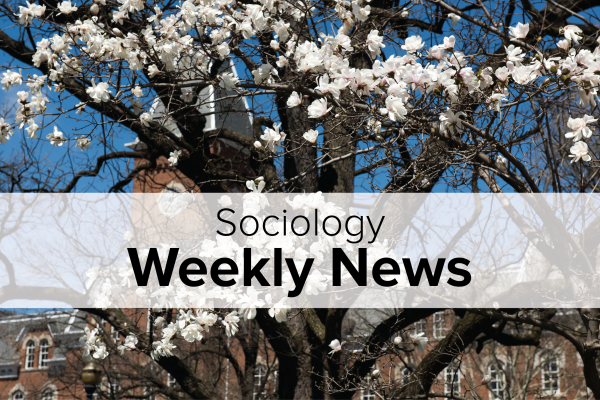 Description
Ohio State Sociology In the News
Undergraduate student and an advisee of Dr. Kami Schmeer and graduate student Paola Echave, Sandhya Nori, won first place in the Human Experiences section of the Denman Undergraduate Research Forum. The title of the poster is:  "The Link between Adverse Childhood Experiences and Health Status: An Analysis of Mothers in León, Nicaragua. Please see the link below for information on the winners: https://u.osu.edu/26thdenmanforum/student-presentations/
Dr. Chris Knoester's undergraduate research thesis advisee, Emily Nothnagle, expertly defended her thesis on "Sport Participation and the Development of Grit," provided a fantastic Denman presentation on it (receiving a 2nd place award in the Psychology and Social Psychology division), and also won a top award (Outstanding Sport for Development Research) for her project at the 2021 OSU Sports & Society Initiative's 3rd Annual Undergraduate Research Fair. Emily is a triple major in Anthropology, Psychology, and Music (and captain of the National Champion OSU Pistol team). She intends to go to graduate school to study Social Anthropology and further work on her sport participation and grit research initiatives over the Summer with Dr. Knoester. Please see the link below for information on the winners: https://u.osu.edu/26thdenmanforum/student-presentations/
 
Professor David Melamed's 2020 article in Social Psychology Quarterly has received the faculty paper award from the Evolution, Biology and Society section of the American Sociological Association!

Will Kalkhoff, David Melamed, Josh Pollock, Brennan Miller, John Overton, and Mathew Pfeiffer, "Cracking the Black Box: Capturing the Role of Expectation
States in Status Processes." Social Psychology Quarterly 2020 83, pp. 26-48.

The Journal for the Scientific Study of Religion has announced its new Editor-in-Chief, our very own Korie Little Edwards, PhD! The press release is included below:
"Under her leadership, SSSR engaged in a process of Strategic Planning that continues to guide our efforts today. Please also welcome new Associate Editors Andrea Henderson, PhD, Associate Professor of Sociology, University of South Carolina, and Aida Ramos, PhD, Associate Professor of Sociology, University of Mary-Hardin Baylor, as well as Ruth Powell, PhD, Director of NCLS Research and Associate Professor, Charles Sturt University, Australia, who will serve as Book Review Editor. Dr. Little Edwards and team will assume their positions on January 1, 2022."
---
Faculty, staff, students, and alumni: Please share your newsworthy accomplishments with us! Click here to email the social media manager.
---