March 15, 2021
Weekly News
Image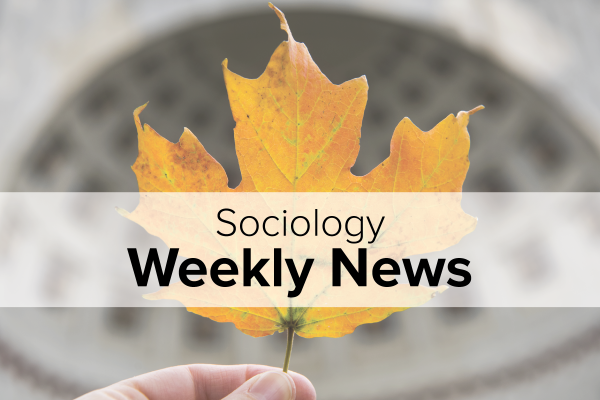 Description
Ohio State Sociology In the News
Dr. Sam Clark, has been selected as one of this year's Joan N. Huber Faculty Fellows! Each colleague chosen as a Huber Fellow will receive the title and recognition, along with an annual cash for three years to further the Fellow's research program. The program is supported from endowment funds in honor of Joan Huber, who in her own scholarly career and as Dean of SBS (1984-1992) set the highest standards for all of us; standards that each faculty fellow upholds as a distinguished senior faculty member in SBS. Congratulations Sam!
Dr. Douglas Downey, spoke to the Washington Post about social skills in children and how the pandemic may have a positive effect on one type: digital social skills. Read the article here: https://www.washingtonpost.com/technology/2021/03/05/screen-time-one-year-kids/
---
Student News:
Dr. Deborah Faulk (OSU Sociology 2020), will join the Sociology and Anthropology department as an assistant professor of sociology at James Madison University in fall of 2021. Read the full JMU press release here: https://www.jmu.edu/news/cal/2021/03/08-benjamin-faulk-perez-join.shtml. Congrats Deborah!
Graduate student Davon Norris, was awarded an NSF/ASA Doctoral Dissertation Research Improvement Grant for his dissertation currently titled "On the Fringes of Creditworthiness: Innovations in Credit Scores and the Future of Racial Inequality in the Algorithmic Age." Davon's research with Corey-Moss-Pech(2020 OSU PhD) was also featured this week in ASC News. Congratulations, Davon!
---
Faculty Announcements:
Dr. Eric Schoon, recently spoke on a panel hosted by the Department of Sociology at University of Colorado-Boulder on Pandemic Fieldwork. A recording of the panel is available here: https://www.youtube.com/watch?v=QsjuJnkZXQE. In addition he'll be giving a virtual talk next Monday at the Max Planck Sciences Po Center on Coping with Instability in Market Societies, which is open to the public. The talk is titled, "Turning Inequalities 'Inside Out': Accounting for Cases and Causal Complexity via Multiple Regression", and registration is available here: http://www.maxpo.eu/events.asp.
Dr. Elizabeth Cooksey shared the following information about a new University Fund honoring Frank Mott: The University has set up Fund #317196 (Mott Memorial Fund) to honor Frank's "distinguished career in survey research, teaching, and mentorship." Donations can be made by searching for the fund here https://www.osu.edu/giving/. Elizabeth hopes the funds can be used to help young scholars (undergraduate and graduate students, post-docs, and even early career faculty if they don't have start-up funds) with small survey research projects using the American Population Panel as their source for information.
---
Reminders:
The Sociology Department Book Salon for Dr. Doug Downey's book, "How Schools Really Matter" is Friday, March 19th, 1:00-2:30p EST. Please register here if you plan to attend: https://go.osu.edu/B4B8. Zoom information will be sent before the event to those who registered, it is free and open to the public so please share with friends, colleagues and students.
---
Faculty, staff, students, and alumni: Please share your newsworthy accomplishments with us! Click here to email the social media manager.
---