July 31, 2023
Weekly News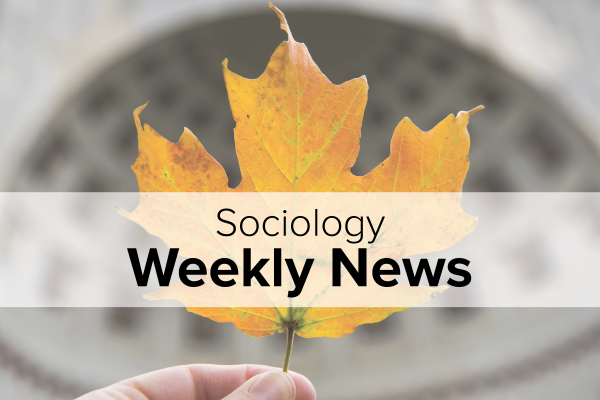 Friday News, July 21, 2023
Dr. Korie Little Edwards and her co-author, Michelle Oyakawa (who received her PhD in Sociology at OSU), won the 2023 Distinguished Book Award from the American Sociological Association Sociology of Religion section for their book, Smart Suits Tattered Boots: Black Ministers Mobilizing the Black Church in the 21st Century.  Congratulations Korie and Michelle! 
Dr. Paul Bellair was quoted in an article on the KIA boys, which describes the recent string of KIA automobile thefts in Columbus and other cities across the country. Check it out here. 
Connor Korte, from the Class of 2020 from Sociology Department, recently gave a Tedx Talk titled "Mental Health Consciousness in Education."   Watch the full video here: https://youtu.be/_rIztmRRXF8 
OSU alum Sadé Lindsay (Cornell) and Dr. Mike Vuolo received the ASA Section on Drugs & Society Distinguished Scholarly Paper Award for their 2021 article, "Criminalized or Medicalized? Examining the Role of Race in Responses to Drug Use" published in Social Problems. 
Two OSU Sociology Emeritus Professors, Professor Tim Curry and Professor Laurel Richardson, were recently honored for their outstanding contributions to the sports and society field of research via their publishing of a "Top Ten" article of a decade in the Sociology of Sport Journal. Professor Curry's profeminist analysis of problematic aspects of male bonding in locker rooms was selected as a top article from the 1990s. Professor Richardson's insights on writing practices in qualitative research was selected as a top article from the 2000s. In addition to being high quality studies that have influenced countless people over the years, each study has been cited in other research well over 500 times. 
Dr. Hollie Nyseth Nzitatira, Associate Professor of Sociology, has recently been awarded the 2023 Engaged Scholarship Prize from the International Association of Genocide Scholars (IAGS). Recognizing "exemplary scholarship with engagement in genocide awareness and prevention," the prize is given to one scholar globally every two years. The award was announced at the IAGS Biennial Conference held in Barcelona, Spain, earlier this July. 
Class of 1991 PhD Recipient, Don Grant, published a new book Nursing the Spirit: Care, Public Life, and the Dignity of Vulnerable Strangers in May of this year. You can find more information about the book here. 
---