February 15, 2021
Weekly News
Image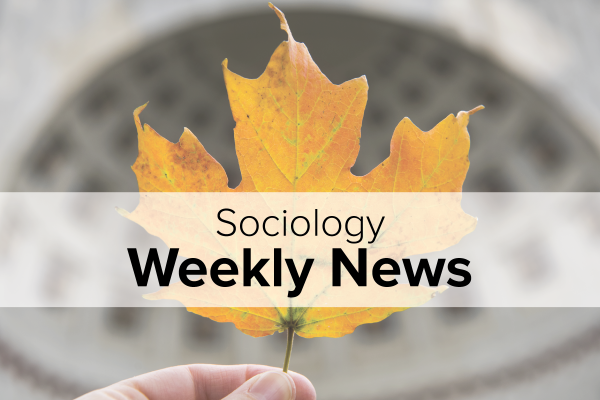 Description
Ohio State Sociology In the News
Dr. Chris Knoester's recent National Sports and Society Survey research, co-authored with Rachel Allison and published in Sociology of Sport Journal, was written up by OSU News and appeared in places such as U.S. News and World Report, Outsports, and UPI. The research studied the links between gender, sexuality, and sports fandom.
Research by Dr. Hui Zheng, Dr. Vinnie Roscigno, graduate student Jacob Tarrence, and collaborator Scott Schieman was profiled in the College of Arts and Sciences Daily Post: Less job stress for workers at financially transparent firms.
Department lecturer Dr. Terrance Hinton recently just completed the 2nd cohort of his EDGE program, which ended with a graduation in January 2021. Mayor Andrew Ginther, Mayor, City of Columbus President Shannon G. Hardin, Columbus City Council, and Lisa Patt-McDaniel, CEO Workforce Development Board of Central Ohio also dropped in to provide their congratulations to the new graduates. More information about the program is available here: https://lifeatalvis.com/2021/01/27/edge-success-stories/
---
Alumni News
Dr. Jill Yavorsky (2017 OSU Sociology PhD recipient, now an Assistant Professor of Sociology at UNC Charlotte) spoke to NPR's Marketplace about her work studying the motherhood wage penalty and how the COVID pandemic may exacerbate the issue. Listen here: https://www.marketplace.org/2021/02/10/study-evidence-motherhood-penalty-workpl/
---
Student News
Graduate student Lawrence Stacey was quoted in the Deseret News discussing his work on the impact of COVID-19 on families with children: Mitt Romney's child allowance plan: Love it or hate it, it's hard to ignore
Graduate student Amelia Li's first 1st-authored publication is forthcoming. The publication titled "Cross-national Attitudes about Paid Parental Leave Offerings for Fathers" will appear in Social Science Research with Dr. Chris Knoester and Dr. Richard Petts (2008 OSU Sociology PhD recipient, now a Professor of Sociology at Ball State.)
Graduate student Sadé Lindsay received an honorable mention in the 2021 graduate student paper award competition from the Crime and Juvenile Delinquency Division of the Society for the Study of Social Problems (SSSP) for her paper titled, "Damned if You Do, Damned if You Don't: How Formerly Incarcerated Men Navigate the Labor Market with Prison Credentials."
---
Faculty, staff, students, and alumni: Please share your newsworthy accomplishments with us! Click here to email the social media manager.
---