October 11, 2021
Weekly News
Image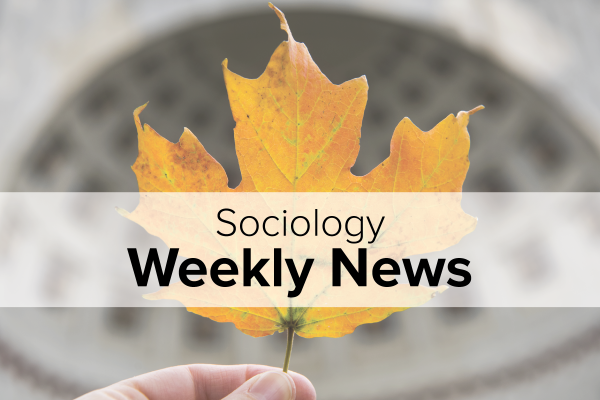 Description
Ohio State Sociology In the News
Dr. Chris Knoester and PhD candidate James Tompsett paired with Education scholar Kirsten Hextrum (Oklahoma), author of the new book Special Admission, to write about what their research says regarding social class and the likelihood of becoming a college athlete, in The Conversation. Based on their collaborative research, they emphasize community effects, family investments, and know-how as mechanisms. Congrats Chris and James!

Dr. Mike Vuolo's research on the public perception of risk involved with heroine use and what effect the expanded availability of Narcan has on those perceptions, was published in Ohio State News: https://news.osu.edu/naloxone-access-doesnt-make-heroin-seem-less-risky/. Congrats Mike!
As a note, Columbus, OH residents can receive a free Narcan kit through Columbus Public Health's Initiative: Columbus & Franklin County Addiction Plan (the kit comes with two doses and full instructions and is mailed in a plain white package). More info and the request form can be found here: https://columbus.gov/cfcap/

Lecturer Charlie LoFaso is participating in a two-day workshop entitled "Building Evidence for Effective Investigations A collaborative workshop to identify research needs." He is one of the 25-30 researchers/practitioners invited to participate. The panel is sponsored by the George Mason University's Center for Evidence-Based Crime Policy. His panel takes place on the second day and is titled: "Role of citizens/community in investigations". Congrats Charlie!
---
Student News:
PhD candidate Coralia Balasca was awarded a grant from the OSU Center for Ethnic Studies to support her dissertation work looking at the heterogeneity in social ties and health outcomes for US immigrant populations. Congrats Coralia!
Undergraduate Sociology major Allison Dang, participated in the second annual Diversity Mini Case Study Competition on Saturday, Oct. 2. The competition, hosted by The Center for Career and Professional Success, helps students develop necessary skills for addressing professional issues of discrimination, systemic racism and exclusion, or scenarios where employees need to respond to actions or words from their employer. This year, the winning case focused on gender discrimination in the workplace, and was presented by four ASC students: Allison Dang (Sociology), Hale Tobin (Biochemistry), Troylonda Bachus (African American Studies, History, Political Science), and Mya Baynes (Neuroscience, Pre-Med). Allison credited Dr. Claudia Buchmann and the Sociology Department for her win:
"Thank you also for your amazing teaching and lessons in Sociology 3463. Your course (and the rest of my sociology courses) played a major role in our success, as I used the literature review skills I learned to help find research to back our presentation and proposal. It also sped up the process of building our proposal, as I already knew the baseline sociological theories and research that could help guide our project and did not have to start from scratch. We actually used specific papers that I read for previous sociology courses also. So really, thank you and the sociology department for giving me the foundation to succeed in this event!"
---
Alumni News:
Recent alumna Dr. Sadé Lindsay (Cornell) has been awarded 1st place in the American Society of Criminology Gene Carte Student Paper Awards for a paper derived from a chapter of her dissertation, titled, "The Prison Credential Dilemma: How Racial Discrimination and Contradictory Signals Shape Post-Prison Employment." It is the highest honor for student scholarship given by the association. Congrats Sadé!
---
Faculty, staff, students, and alumni: Please share your newsworthy accomplishments with us! Click here to email the social media manager.
---