Image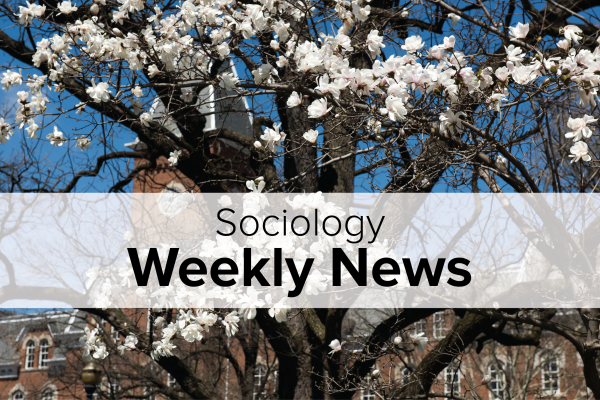 Description
Ohio State Sociology In the News
Dr. Reanne Frank's research was covered by OSU News. This research looks at the COVID death rates for Hispanic Americans, which are disproportionately higher compared to whites. Findings indicate that "particularly for front-line & essential workers, among whom Hispanics are overrepresented, COVID-19 is an occupational disease that spreads at work.
---
Graduate Student News
2021 Ph.D. Laurie Michaels has accepted a full-time position as a Qualitative Researcher with HealthCore, a clinical research firm in Boston, MA.  She will be working initially on a variety of projects including an FDA study of opioid users and a study of the use of birth doulas in underserved populations.  Laurie is excited about her new job!

Graduate student Simon Kolbeck finished second place in the Hayes Graduate Research Forum's social and behavioral sciences section. Congratulations!
---
Alumni News
Congratulations to Dean Gibson, founding member and immediate past chair of our Sociology Advisory Board, who will receive the College of Arts and Sciences Distinguished Service award on May 20!  Dean has worked tirelessly for many years to advance the missions of the Department of Sociology and the College.  You can read all about the great things Dean has done for Ohio State, and register to attend the event virtually, at the following link. Virtual Honoring Excellence conversations recognize service, achievement by distinguished alumni | College of Arts and Sciences (osu.edu).
Sociology Advisory Board member Shelley Zimmerman's Game Changer program was featured in US News & World Report yesterday.  Here's the link: Changing the Game to Improve Police, Community Relations | Healthiest Communities Health News | US News
---
Faculty, staff, students, and alumni: Please share your newsworthy accomplishments with us! Click here to email the social media manager.
---