January 25, 2021
Weekly News
Image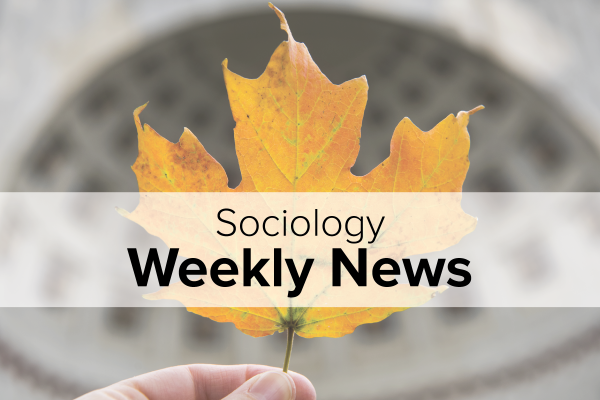 Description
Ohio State Sociology In the News
Dr. Cindy Colen recently spoke with The Chronicle to discuss her research and its implications for how higher education might better support Black students.
Dr. Doug Downey's new book How Schools Really Matter:  Why Our Assumption AboutSchools and Inequality is Mostly Wrong, is now available for purchase.
The American Sociological Association Section on Religion named a new award after Dr. Korie Little Edwards. The Korie Little Edwards Research Grant Program recognizes her work in strengthening the understanding of the critical role religion plays in the reproduction of race and racial hierarchies in addition to her service to our scholarly community as the first woman of color to head one of the major social science religion associations.  This research grant honors her contributions to the field and encourages scholars to make similarly significant contributions. The research grants will go to Black, Indigenous, and People of Color (BIPOC) members of the Sociology of Religion section. More information about this award and details of how to apply are available here.
 
Dr. Rin Reczek and Dr. Mieke Thomeer (University of Alabama at Birmingham Sociology) were awarded a 5-year NIH R01 grant, titled, "Motherhood Biographies and Midlife Women's Health." This project uses NLSY data to track how trajectories of parenthood shape health over the life course, with special attention to the stratification of health by race and education. Click here to view the award abstract.
Dr. Kammi Schmeer's work on family stress during COVID-19 lockdowns was featured in Arts and Sciences College News.
---
Affiliated Faculty News 
Dr. Linda Lobao was named Distinguished Professor of Food, Agricultural, and Environmental Sciences. The award "honors colleagues at the rank of Professor who have excelled in teaching, research, or outreach/engagement, and whose work has demonstrated significant impact on their fields, students, CFAES (College of Food, Agricultural, and Environmental Sciences) and University, and/or the public".
Dr. Deborah J. Merritt's tribute to the late Justice Ginsburg was published by the Harvard Law Review. Dr. Merritt was both a student of hers and one of her first law clerks. A Distinguished University Professor, Dr. Merritt holds the John Deaver Drinko-Baker & Hostetler Chair in Law and is Courtesy Professor of Sociology and Public Affairs and Associate Faculty in Women's, Gender, and Sexuality Studies. 
---
Student News
Ph.D candidate, Lawrence Stacey published a fact sheet for the Council on Contemporary Families on Why Families Need More Economic Support during the COVID-19 Pandemic. The report is coauthored with Dr. Kristi Williams.
---
Alumni News
The dissertation of Dr. Corey Moss-Pech (OSU Soc PhD graduate 2020), titled "MarketAbility: Inequality in the College-to-Work Transition," has been selected as a finalist for the American Educational Research Association's Best Dissertation Award. More information about this award is available here.
---
Faculty, staff, students, and alumni: Please share your newsworthy accomplishments with us! Click here to email the social media manager.
---